3-In-1 Silicone Super Sponge - Eco Friendly
Did you know...? Your old kitchen sponge has more BACTERIA than a TOILET!
Household sponges are often breeding grounds for molds and mildews, but this Amazing 3 in 1 Silicone Sponge Cleaning Sponge is completely bacteria and odor resistant. Therefore, not only will your sponge refrain from accumulating molds and mildews, but it'll also never develop an unpleasant smell.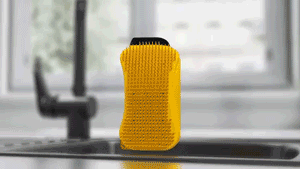 3-IN-1 Silicone Super Sponge combines SPONGE, SCRAPER, AND SQUEEGEE. Silicone Super Sponge is the all-purpose scrubbing, scraping, and wiping kitchen friend you've been waiting for! With three ways to clean every surface, plate, pot, pan, cutlery, and even glassware in your home you'll always be able to reach for your Silicone Super Sponge, no matter what the mess. Fill it with soap and it's a self-dispensing washing-up sponge with two surfaces for different jobs. Use the long stiff edge and it's a silicone squeegee, wiping down and removing water and spills from flat surfaces, worktops, and even windows. Finally, for those super-tough, burnt-on messes that just won't soak away, use the nylon scraper on the end for enough toughness to handle the stains but none of the scratchings of abrasive scourers, so it's safe on non-stick pans and worktops!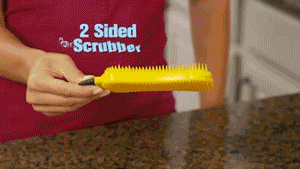 The 3 in 1 Silicone Sponge Cleaning Sponge is both durable and non-porous. That means the sponge will be unlikely to rip, no matter how much you bend it, and it's also unlikely that dirt will fall through the sponge and get caught in the middle pocket. The middle pocket within each sponge contains a soap dispenser, you can just pour your favorite washing liquid inside.
3-in-1, long-lasting silicone sponge

Built-in soap dispenser

Textured silicone design scrubs through the baked-on grime

Nylon scraper removes food stuck on cookware

Built-in squeegee pushes food off plates and countertops

Bacteria and odor resistant, BPA free

Nonstick coating, cookware safe

Size:

17 cm x 7.5 cm x 2.6 cm
Package includes:
1 X Silicone Super Sponge
Please refer to your shipping confirmation email to track your order. If you have any questions, please contact our Customer Support team anytime!
Please allow 1 business day to process in addition to the shipping times listed below for your selected shipping method.
Standard shipping: 7-10 business days
Express shipping: 3-6 business days
FREE for orders over $59