PROTECT CHILDREN FROM DANGEROUS ITEMS AND ENJOY PEACE OF MIND AROUND THE HOME
Common household items can become serious hazards for small children. Safely lock away dangerous items while still keeping cabinets looking neat and tidy with our MagSafe™️ Cabinet Locks
HOW IT WORKS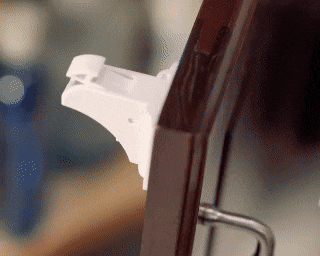 Install on the insides of cabinets and drawers, safely preventing children from getting in. To open, simply place the magnetic key near the lock!
INVISIBLE FROM THE OUTSIDE
Keeps your home looking neat and attractive, with locks hidden out of sight. You won't even be able to tell that they're there!
No tools/drilling required - just peel and stick firmly onto surface. Adhesive forms an ultra-strong bond within 24 hours of installation!
ON/OFF CONVENIENCE
Locks can easily be disabled by switching to the "off" setting. Allows quick access when the kids are away.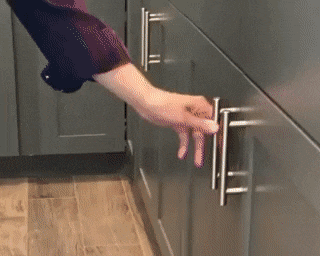 SEE WHAT OTHERS ARE SAYING
"These locks were exactly what we needed. They work great and the setup was a breeze. My boy often tries to yank open the cabinets and these locks have held up against him again and again."
- Margo Y.
"These magnetic child-proof locks have been LIFESAVERS. My toddler wanted to get into everything around the house. The knives, the cleaning liquids, even the tools. I felt like I couldn't take my eyes off for even a second. Now all the dangerous stuff stays locked away and we can still easily get to everything. You can't tell the locks are there and it even comes with extra magnetic keys!"
- Audrey C.
"These little locks are so simple, yet so smart! They work exactly as you'd expect and the kitchen feels so much safer. We just keep the magnetic key stuck to the fridge, so it's always close by whenever needed. Really happy with them, would definitely recommend."
- Luke D.
Each Kit Contains:
8 Magnetic Locks
8 Latches
2 Magnetic Keys
2 Key Holder Pads
1 Installation Cradle
1 Bag of Fastening Screws (optional)
FREQUENTLY ASKED QUESTIONS
What If I Lose My Magnetic Keys?
Each kit comes with multiple keys, meaning that you'll always have backups. Keys can still get lost from time to time, however, If you happen to lose all of your keys, you can contact our support team for a free replacement. Alternatively, you can use a regular strong magnet.
My Kid Is Really Tough. Are These Locks Really Strong Enough To Work?
Yes! We use advanced industrial grade 3M adhesive, and our locks have been extensively tested to stay put even against the toughest kids. The adhesive forms a very strong bond against its surface after being applied for the first 24 hours. For an even stronger installation, however, each kit includes screws that you can use in addition.
Does It Work On Drawers?
Yes! Our magnetic lock system can be used on most drawers as well as cabinets.
Can It Be Used On Thicker Cabinets/Drawers?
Yes, this system is compatible with cabinets and drawers up to 1.5in (3.8cm) thick!
Where Can I Buy It?
Our products are not available in stores. All orders must be made on Brutus Life official online store.
Please refer to your shipping confirmation email to track your order. If you have any questions, please contact our Customer Support team anytime!
Please allow 1 business day to process in addition to the shipping times listed below for your selected shipping method.
Standard shipping: 7-10 business days
Express shipping: 3-6 business days
FREE for orders over $59