"Relieve Swelling and Tired Legs with Precise Electric Pulses!"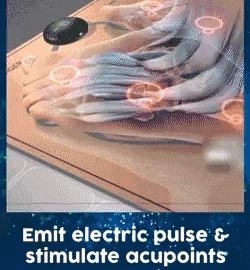 Swelling and leg pain are relieved by tiny electric pulses that target lymphs in the legs and efficiently unblock the lymphatic system. It also promotes better blood circulation, which helps in the removal of cellulite lumps on the legs and thighs.




☑️ FOLDABLE DESIGN - A soft and comfy foot pad that is lightweight, foldable, and portable. You can have a calming therapy session wherever you are.




☑️ QUIET OPERATION & EASY TO CLEAN - Made of soft yoga mat material, with a leather surface that can be dried with a damp towel after use. Calm and quiet. It can be used when watching TV, reading, working in the office, or relaxing. Suitable for all foot types and different foot sizes.



☑️ ADJUSTABLE INTENSITY & MASSAGE MODES - 9 up to 15 levels of adjustable intensity and 6 vibration modes that directly stimulate acupuncture points. They can relieve pain quickly, slow down physical and mental fatigue, and improve sleep.

DISCOVER WHY THE EMS MASSAGER IS RIGHT FOR YOU

Use ESL Foot Massager 15 minutes a day Sitting or Standing to help with:
Peripheral Artery Disease (PAD)
Lymphatic System
Varicose Veins, Sciatica
Foot Drop, Muscle Re-Education
Diabetes Neuropathy, Plantar Fasciitis
Arthrіtіѕ, Bunions, Ankle Swelling
Leg, Hip, Arm, Bасk and Neck Pain
Headache, Migraine
Poor Leg Blood Circulation
Cold Feet & Arms Syndrome, Cramps
Cognitive Dysfunction

A HEALTHY LIFE STARTS FROM HERE!



Product specifications:

Material:

Durable

silicone

foot

pad

with a

conductive

surface.


Size:

12.8 x 11.6 inch /

32.5 x 29.5 cm




Weight:

0.44 lbs / 0.2 kg




Battery Type:

USB rechargeable




What's included:
Get your Premium EMS Foot Massager
now at a

special price!


Frequently Asked Questions

How long should I use it?

We recommend using the EMS Massager for

15 minutes per day

.

How do I clean the EMS Massager?

The leather surface can easily be

cleaned with a damp cloth

after use.

Is the device noisy?

It's super quiet! It can be used when watching TV, reading, working in the office, or relaxing.

Why do I need the EMS Foot Massager?

It

improves your blood circulation

in feet and legs.

Relieves pain

and

increases leg muscle activity

. It also has a supportive effect on various leg problems. Such as foot neuropathy, cramps, plantar fasciitis, etc.

Please note:

This is not a medical product and cannot guarantee medical results. It does not replace proper treatment.



Please refer to your shipping confirmation email to track your order. If you have any questions, please contact our Customer Support team anytime!
Please allow 1 business day to process in addition to the shipping times listed below for your selected shipping method.
Standard shipping: 7-10 business days
Express shipping: 3-6 business days
FREE for orders over $59