About this item
【Easy to Hold & Replaceable Brush Head】 The creative groove gap cleaning brush use PP material handle, comfortable grip, not dirty, scouring pad material, good cleaning power. The brush head replaceable, clean and hygienic. Ideal household cleaning tools.

【Deep into Cracks & Fast Cleaning】 This door window track cleaning tools with thin brush head design makes it easier to clean any corners, gaps, baseboards, narrow space or cracks in your home.

【Easy to Clean & Convenient Storage】 Thickened cleaning cloth have a good cleaning effect, easy to foam, easy to wash. It can be hung for storage, which saves space and prevents moisture.

【Multi-use】It can be used for cleaning window blind, cooktop, range hood, auto car seams, glasses, keyboard, air conditioning shutter etc.

【Multi Application Scenarios】Family, kitchen, bathroom, hotels, banks, laundry room, living room etc. Quickly clean all corners and gaps.
Looking For A Way To Get To Those Hard To Reach Areas?
Our Magic Window Cleaning Brush is the solution for you to reach all those pesky hard to reach areas around the house. No one likes dirt building up between the window, door trims, floor trims, stoves, ovens, and much more.
Use the Magic Window Cleaning Brush to your advantage against the bacteria and dirt, simply swipe across the dirt and build up and see it disappear within seconds.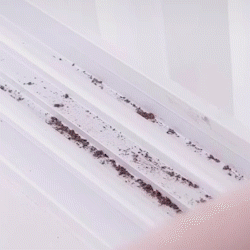 Features:
EASY TO USE: The window cleaning brush is simple to use and very comfortable to hold to clean any part of your home within seconds. The easy to grip handle and strong pad to pick up all dirt is the perfect combination

MULTIPLE USE: Not only can you clean dirty windows but you can use our brush for doors, windows, trims, slides, gaps and more

EASY TO CLEAN: With our brush you won't have to worry about endless cleaning with a few simple swipes you'll pick up all dirt and with a quick rinse you'll finish cleaning quicker

Specifications:

Material: PP + scouring pad

Weight: 35g

Color: Beige; Light Gray; Blue

Package Includes:

3x Magic Window Cleaning Brushes
Please refer to your shipping confirmation email to track your order. If you have any questions, please contact our Customer Support team anytime!
Please allow 1 business day to process in addition to the shipping times listed below for your selected shipping method.
Standard shipping: 7-10 business days
Express shipping: 3-6 business days
FREE for orders over $59